Administrative Assistant,
Family Life Ministry
Marcy was born and raised in Bellefontaine, OH but has called Virginia her home since 1992. She married Chuck in 1998 and they have two adult kids, Blake and Olivia. She serves as the Administrative Assistant for the Family Life Ministry at FBC supporting women's and men's ministries and overseeing the Home Center. She loves spending time with her family and playing games with whoever will play along.
Kim is married to Tim Byram. Together they have two children. Caleb who is college student at VA Tech and Sarah a senior at Sherando High school who is heading to VA Tech in August 2019. GO HOKIES! Kim is responsible for the weekly cleaning of the Administration building, Nursery, and preschool. Her desire and prayer is that all the children at FBC will come to a saving knowledge of Jesus Christ.
Deborah has been married to her husband, Randy, for almost 42 years and they have three children and nine grandchildren. As Congregational Care Coordinator, it is Deborah's mission that members of the body of Christ minister His love to one another and that His compassion be felt in times of need. She is a member of the Auxiliary of The Gideons International and is passionate that all people have a copy of the Word of God and an opportunity to know Jesus. Deborah teaches a self-contained classroom of children with disabilities within the JOY Ministry and is a Stephen Minister. In her SPARE time, she enjoys puzzles of all kinds (except Sudoku!)
Associate Student Director
Emma Culler has been attending FBC since the summer of 2017. She learned early on that it was better to follow God's plans rather than make her own plans. Following God has lead Emma on a few different paths, but He has been so good and so faithful to lead her here to FBC to be the Associate Director of Student Ministries. Emma's desire is that each student would truly embrace their identity in Christ and grow in their knowledge of Christ's love for them. When Emma is not at church you can find her playing tennis, hanging out with friends at Rose Hill Park, or hosting a Lord of the Rings movie night.
Carmen is married to her sweetheart, Rodney. They have three wonderful children and four fabulous granddaughters. Carmen juggles several ministries and pastors including Biblical Training Center, Community Groups, Local Outreach, Iglesia Bautista Hispana, and FBC Shenandoah. She and her husband are rabid Virginia Tech football fans. When "football therapy" is over, she can be found creating quilts in her "Girl-Cave" aka sewing room.
Worship Leader & Events Production Manager
Mark has been an active member of Fellowship since 2000, serving over the years in many aspects of ministry. As a worship leader, he loves seeing people engage with God through singing along with coordinating the musicians to help accomplish that goal. He also assisted in the launching of the Fellowship 3 and Fellowship Saturday worship venues. As an event coordinator, Mark's passion is to see God work in the lives of people through the planning and implementing of the variety of events held at FBC. Mark's wife is a professor at Shenandoah University and they have two boys, Tyson and Pierce.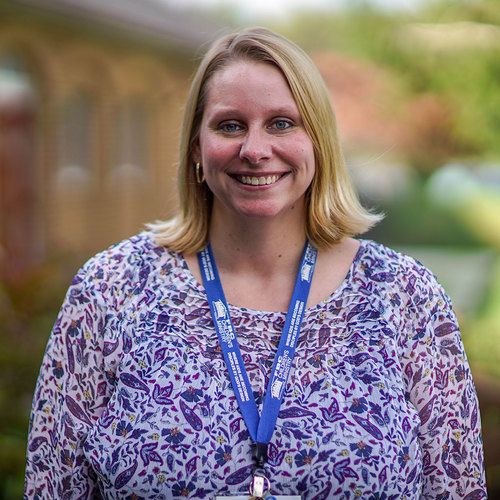 Nursery & Preschool Coordinator (FSat)
Nursery & Little Hearts Coordinator
Heather is married to husband Michael, and they have five children (three of whom are teenagers!). As the nursery and preschool coordinator for Fellowship Saturday, she is able to get her "baby fix" by loving on and sharing Jesus with some super sweet babies, toddlers, and preschoolers every week. Heather desires to provide a nurturing atmosphere for the little ones in her care so that all members of the family can have a positive, faith-building experience. This position has been a blessing to Heather and her family who jump at the chance to serve alongside her each Saturday.
Wife of Joshua and mother of three beautiful and rowdy children, Josiah, Eli and Addison. Tara serves as Nursery and Little Hearts Director at Fellowship Bible Church. Her passion is watching children fall in love with Jesus and coming alongside parents as they lead their families. She loves coffee and family vacations.
Technical Systems Director
Roger is a Winchester native and is proudly married to the other Lauck on this page of biographies. His association with technology began with 'Space Invaders' nearly 40 years ago and has taken some interesting turns along the way - leading up to his current role as FBC's Technical Systems Director. In that role, he works alongside the church's ministries to use technology to share the Good News not only locally, but globally. In his downtime, he can be found studying about anything and everything from archaeology to piano to how to speak Spanish (he's pretty sure he single-handedly keeps the 'Dummies' book publishers in business).
Worship Production Manager & Creative Designer
Rose Lauck is married to Roger, the Technical Systems Director of Fellowship. Together they have raised three children. She serves as production manager which allows her to use all of her passions - visual arts, music, education and a great love for people to inspire the congregation to worship God using their gifts and to enjoy the giftedness of others. It's hard to find her without a cup of coffee in her hand.
Administrative Assistant,
Counseling & Care Ministry
Now that her four children are grown, Caroline and her husband Jeff are enjoying some much needed traveling together when they get the chance. Being involved in Children's Ministry for over 20 years allows her to fulfill a passion for serving the families here at FBC by supporting the many wonderful volunteers that teach Jesus to the preschoolers. Where else can you color, eat goldfish, and learn just how much Jesus loves you?! She also has the most perfect granddaughter and a puppy who is sweet but not very bright.
Sherri has been married to her best friend, Phil, since 1986. Three sons and a daughter have been gifted to them during that time. Sherri serves as the Biblical Counseling Ministry Administrative Assistant. She considers it a privilege to have a small part in connecting people in need, to the hope found only in God. While she loves being part of the Counseling Ministry, you will find her on Sunday mornings, following her heart in 5th grade. And on rare occasions, you may even find her playing her flute!
Administrative Assistant,
Communications and Student Ministry
Abby grew up in Winchester and has attended FBC from a very young age. She is married to her high school sweetheart, Jeremy, and they currently live in Stephens City. Both Abby and Jeremy enjoying serving in youth as small group leaders and mentors. They also serve together as preschool teachers and regularly attend Keystone Young Adult Ministry.
From Astoria, Oregon, Larry has been married to Bev for 40 years, has three adult children, six grandchildren, and three dogs. He retired from Fairfax Water in 2010 and began his service to the Lord in 2012. Larry's role at Fellowship is to make sure the church is ready for all events as well as the weekend services. He and the maintenance staff want to make sure the facilities are clean and glorify God in the process.
Student Ministries Director
Caleb has been a member of FBC for his entire life. He met his wife Hannah in Keystone, FBC's Young Adult ministry, and they have been serving together ever since! His passion for ministry in response to the gospel rests in simply being a vehicle for the Holy Spirit. A voice for the unborn and a resource for those both young at heart and in their faith, he is fueled by the forever standing of God's word (Isaiah 40) and the joyous privilege it is to suffer for Christ's name (James 1). He is a zealous teacher, knows a tremendous amount about the TV show Lost, and enjoys finding Jesus in the entertainment industry. You can find Caleb working in the Youth Area, as well as in our Young Adult Ministry "Keystone" and podcast series "Sermon Spotlight" where he serves as Host.
Administrative Assistant,
Global Missions
Sarah was born and raised in Delaware. She graduated from Liberty University with a degree in Communications: Advertising and Public relations. She spent the summer after graduation as a social media intern with Wycliffe Bible Translators, where her heart for missions and Bible Translation grew. Sarah moved to Winchester in 2017 after her and Mike got married. Shortly after, they began attending FBC. You can probably find Sarah in the clearance section of any store, decorating her home while Mike renovates, singing, spending time with family & friends, or enjoying God's creation outside. Sarah is honored and eager to serve the missions team as administrative assistant.
Ben grew up in a missionary organization, where the Lord developed in him a passion for missions and music. Those two things have been constants in his life direction, and have resulted in opportunities to serve the Lord both in the States and overseas. He came to FBC with a desire to better understand the Lord's heart for the local church, and was excited when He felt that the Lord wanted him to stick around. Ben loves anything outdoors, most things indoors, and if it's after October '21 when you're reading this, he's the very lucky husband of Ashley.
Custodian and Property Care
Children's Ministry Director
Charlie has lived in the Winchester area all his life. He and his wife Pam have been married 38 years. They have 3 children and 8 grandchildren. They have been members at FBC since 2010 and Charlie has been on staff since 2016. Charlie's purpose here is to serve the body of Christ by keeping the grounds maintained, supporting others inside to keep the building clean and completing special projects that arise.
Brian was born and raised in Martinsburg, WV and graduated from WVU in 2001. After living eight years in North Carolina, Brian and his high school sweetheart, Tracy, with whom he will be celebrating 20 years of marriage this year, moved to Stephens City in 2009 and soon began attending FBC. After getting plugged in quickly with a community group, they found FBC to be their home and began serving in Children's Ministry. An avid sports fan, Brian loves coaching Aubrey's softball team and supporting Sophie in volleyball. When the girls aren't playing they are rooting for the Washington Nationals or the Mountaineers. The Weir's are excited for this opportunity the Lord has presented to them and look forward to serving FBC's children, their families, and the many volunteers it takes to make this a thriving ministry.
In 2016, Charlie Spencer requested Brian prayerfully consider a life in ministry. In an act of faith, Brian accepted Charlie's invitation by serving in many areas of Children's ministry, joined his leadership team, and was mentored by Charlie. He began taking online courses through Dallas Theological Seminary and is more than half-way to completing his Masters in Christian Education.
Women's Counseling Supervisor
Congregational Engagement and Communications Manager
Administrative Assistant to the Executive Pastor
Lisa grew up in a Christian home as a result of missionaries who impacted her parents while living on Okinawa. She and Don have enjoyed being married for thirty-seven years. Their home has been blessed with two daughters and a son who are all now adults. More recently brought into the family were two more to love, their daughter-in-law and son-in-law. Lisa deeply loves God's Word and treasures it all the more having gone through a life-threatening health issue in her early thirties. In her counseling role, she longs for other women to know more of Jesus. For them to experience His love and that He can be trusted in and through the difficult relationships and circumstances of life. Her favorite place to be is in her quiet time room at Sunrise with the beads hanging in the window sparkling in the early morning light.
Jennifer is married to Michael and they have 2 sets of children, the "What have we gotten ourselves into" set (Julianna & Justin) and the "We're going to get it right this time" set (Jonathan & Jacob). Jennifer is the all-around, do-everything, when-you-need-it-done kind of girl. Jennifer grew up in a remote village in the far east, also known as the Maryland suburbs of Washington, DC. Her husband has successfully indoctrinated her into the culture known as Big Blue Nation (AKA - the best college basketball team in the Midwest).
Julie has been married to Dale for 37 years and they are now empty nesters. They have five grown children and seven grandchildren with one more on the way. Julie serves as Administrative Assistant to John Van Drunen as well as to Charlie Spencer in Children's ministry. She loves to walk and enjoy the beauty of God's creation. She also loves children of all ages!